My visit to Russia was in the middle of winter, so everywhere I went, snow was covering the railway tracks. So how do the Russian Railways keep them clear?
One way they keep the tracks clear is their fleet of «Снегоуборочная машина» – snow clearance trains. The most common type is the «СМ-2» model, which consists of a lead vehicle to clear the tracks, a number of hopper wagons to carry the collected snow, and a locomotive at the rear to push the entire consist along.
Augers and brushes dig down below rail level to clear the snow.
The operator of the snow clearance train sits in the lead vehicle, controlling the collection head, and raising it over turnouts and level crossings. Collected snow is conveyed to the back of the vehicle via a conveyor belt, which passes over the top of the crew quarters.
Once the snow reaches the rear of the lead vehicle, it is dropped off the conveyor belt.
Where it is collected in the hopper wagons that follow behind.
Each train has a number of hopper wagons following behind, with the collected snow being moved down the train by bottom mounted conveyor belts.
Once the train is full with snow, the rear wagon can be used to unload it trackside.
It does this with a pop out conveyor belt at the very end of the train.
This allow the the collected snow to be discharged beside the tracks as the train moves along.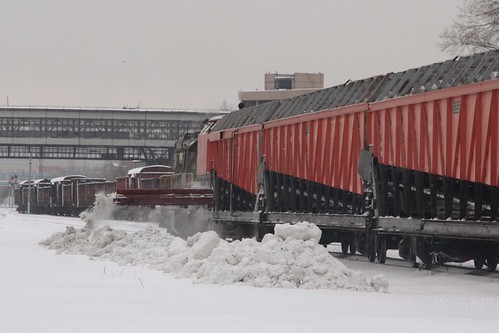 The usual motive power on snow clearance trains are the ubiquitous «ЧМЭ3» (ChME3) class diesel electric locomotives, a 1000 kW unit designed for heavy shunting and seen all over the former-Soviet Union.
And the end result – clean tracks, with rails standing proud of the snow.
Further reading